Les Évasions Littéraires: Le Motel Rose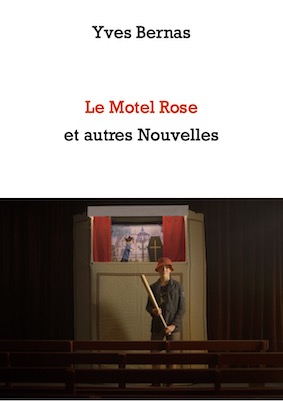 Review by Les Évasions Littéraires
English translation:
Author: Yves Bernas
Publisher: Librinova, 2020
Number of pages: 216
Back Cover: In "Le Motel Rose" (The Pink Motel), a man must find his wife's clone in order for her to survive, the latter is thirty years younger… In The Visitor, a retired judge who didn't have the courage to follow his deepest calling is confronted with his demons. In The Agent's Double, a son must kill his father's double to save him. But what if he's on the wrong track? Jean Waugal is a talented writer who doesn't want to be famous, Ulrich Krug is talentless but extremely ambitious, they will sign a contract.
Acknowledgements:
I would like to warmly thank Librinova Publishing for the discovery. Opinion: Here is a collection that allowed me to discover an author that I did not know yet and that I had a lot of pleasure to discover. The short stories are varied and deal with different themes that take us to the heart of eventful and chilling stories, offering us a very interesting and surprising read.
In the first story, "Le Motel Rose" (The Pink Motel), the author plunges us into a world that I hope will never be our future, because it is really chilling to imagine that we could get there. We meet Ingrid and Roger, a couple who seem to have no history. But Ingrid needs a heart transplant and from then on, the story will take a very unexpected and terrifying turn… The author offers us an original story that plunges us into a future that is well described and that, as a result, seems very realistic. This is what worries me the most while reading it. I really liked the red thread of this story and the ideas that are presented to us, a good start to this collection!
The next one, "Voilà, voilà!" (Here we are, here we are!), introduces us to a character who sees his life turned upside down following the death of his father. This death will give him the impression of losing his mind, in any case he is not too sure of what is going on. It will also allow us to dive into the past of his dad and to bring to light some events far from being all rosy. It is a touching news that would have deserved to teach us more.
We continue with "La Rate" (The Rat) where our hero shows us how a macabre discovery has marked him deeply and that will lead him on a dark path that has not finished destroying his life… This story is chilling just as it should be. I loved it and the ending has everything to surprise us! It's a nice tribute to King.
"Le Visiteur" (The Visitor) introduces us to Stan, a character who feels his last hour coming as a mysterious visitor plans to set the record straight and take revenge on him. But why? Who is he? It's up to you to find out alongside him, but hang on tight, because the ending might just surprise you completely!
The next short story, "Quel temps magnifique!" (What a Wonderful Weather), introduces us to a man who wishes to go back in time and take a different path, but it may not turn out the way he thought. This story is a reminder of how important it is to leave the past where it is and move on as best we can, without any regrets.
"Le Double de l'Agent" (The Agent's Double) plunges us into a surprising story where a man in danger of death will have his double join his home to avoid being murdered. But this arrival will upset the family and generate a series of events all more dramatic than the others for his son. The idea is really very original and I really liked the development proposed by the author.
In "Jean Waugal" we meet this author who is trying to make his mark and who will have a great idea to do so. With him, we are going to dive into the backstage, a backstage not always all rosy. But how far will all this lead him? It's up to you to find out! Even if it remains interesting, it is not the short story that I preferred in this collection. Its end, on the other hand, is rather original!
In short, this collection gathers varied stories and all more surprising the ones than the others. It offers us a nice escape, which makes it a nice discovery.
Original French Critique:
Auteur: Yves Bernas
Editions: Librinova, 2020
Nombre de pages: 216
Quatrième de couverture: Dans Le Motel Rose, un homme doit retrouver le clone de sa femme pour qu'elle survive, ce dernier a trente ans de moins… Dans Le Visiteur, un juge à la retraite n'ayant pas eu le courage de suivre sa vocation profonde se trouve confronté à ses démons. Dans Le Double de l'Agent, un fils doit tuer le double de son père pour sauver ce dernier. Et s'il se trompait de cible ? Jean Waugal est un écrivain talentueux qui ne veut pas être célèbre, Ulrich Krug est sans talent mais extrêmement ambitieux, ils vont signer un contrat.
Remerciements: Je tiens à remercier chaleureusement les éditions Librinova pour la découverte. Avis: ​Voilà un recueil qui m'a permis de découvrir une plume que je ne connaissais pas encore et que j'ai eu beaucoup de plaisir à découvrir. Les nouvelles sont variées et abordent différents thèmes qui nous emportent au cœur de récits mouvementés et glaçants, de quoi nous offrir une lecture très intéressante et surprenante.
Dans la première nouvelle, « Le Motel Rose », l'auteur nous plonge dans un monde qui, je l'espère, ne sera jamais notre futur, car c'est vraiment glaçant d'imaginer que nous pourrions en arriver-là. Nous faisons la connaissance d'Ingrid et de Roger, un couple qui semble sans histoire. Mais voilà qu'Ingrid a besoin d'une greffe de cœur et dès lors, l'histoire va prendre un tournant très inattendu et qui a de quoi nous terrifier… L'auteur nous propose une nouvelle originale et qui nous plonge dans un futur bien décrit et qui, du coup, paraît très réaliste. C'est bien ce qui inquiète le plus en la lisant. J'ai beaucoup aimé le fil rouge de ce récit et les idées qui nous sont présentées, de quoi bien entamer ce recueil !
La suivante, « Voilà, voilà », nous fait rencontrer un personnage qui voit sa vie bouleversée suite au décès de son papa. Ce décès va lui donner un peu l'impression de perdre les pédales, en tous les cas il n'est plus trop sûr de ce qui se passe. Il nous permettra aussi de plonger dans le passé de son papa et de mettre au jour certains événements loin d'être tout rose. C'est une nouvelle touchante qui aurait mérité de nous en apprendre plus.
Nous poursuivons avec « La Rate » où notre héros nous montre comme une macabre découverte l'a marqué profondément et cela va le conduire sur un chemin sombre et qui n'a pas fini de détruire sa vie… Cette histoire est glaçante juste comme il faut. Je l'ai adorée et la fin a tout pour nous surprendre ! C'est un bel hommage à King.
« Le Visiteur » nous fait rencontrer Stan, un personnage qui sent sa dernière heure arriver car un mystérieux visiteur compte bien remettre les pendules à l'heure et se venger de lui. Pourquoi ? Qui est-il ? A vous de le découvrir à ses côtés, mais accrochez-vous bien, car le final pourrait bien vous surprendre totalement !
La nouvelle suivante, « Quel temps magnifique ! », nous fait rencontrer un homme qui souhaite remonter le temps et prendre un autre chemin, mais cela pourrait bien ne pas se passer comme il le pensait. Cette histoire rappelle à quel point il est important de laisser le passé où il est et de continuer notre route du mieux possible, sans aucun regret.
« Le Double de l'Agent » nous plonge dans une histoire étonnante ou un homme en danger de mort va voir son double rejoindre son foyer pour éviter d'être assassiné. Mais cette arrivée va bouleverser la famille et engendrer une série d'événements tous plus dramatiques les uns que les autres pour son fils. L'idée est vraiment très originale et j'ai beaucoup aimé le déroulement proposé par l'auteur. ​ Dans « Jean Waugal », nous rencontrons cet auteur qui tente de faire sa place et qui va avoir une super idée pour le faire. Avec lui, nous allons plonger dans l'envers du décor, un envers pas toujours tout rose. Mais jusqu'où tout cela va-t-il le mener ? A vous de le découvrir ! Même si elle reste intéressante, ce n'est pas la nouvelle que j'ai préférée dans ce recueil. Sa fin, par contre, est plutôt originale ! Photo En bref, ce recueil regroupe des histoires variées et toutes plus étonnantes les unes que les autres. Il nous offre une belle évasion, ce qui en fait une belle découverte
---
Click HERE for the original link to the review.